What is Physiotherapy?

Physiotherapy is a clinical health science and profession that evaluates, diagnoses and rehabilitates movement disorders and painful conditions, both acute and chronic. It strives to employ evidence-based methods in order to achieve its goal of optimising functional status, i.e. strives to make you be the best you can be. Physiotherapy aims to view the patient in a holistic light, taking into account all aspects of an individual's lifestyle with the view towards achieving optimal health. In a major paradigmal shift of focus, the recognition of the patient as a biological being, and not simply a biomechanical machine, has further enhanced physiotherapy's understanding of dealing with pain. Empowering the individual via patient education and advice promotes independence and enhanced treatment effectiveness.
Physiotherapists help people affected by injury, illness or disability via hands-on manual therapy, appropriate movement and exercise, and patient education/advice. They work with people of all ages and vocations. Physiotherapy is proven to be beneficial at all stages of life. Acute injuries, neck and back pain, chronic medical conditions, preparing for childbirth, post partum care, training for a sporting event and respiratory conditions such as asthma, show the wide spectrum of conditions that can be helped by physiotherapy.
David Ukich Physiotherapy Clinic Castlebar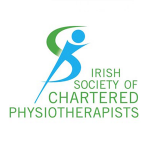 Chartered Physiotherapist
A Chartered Physiotherapist is a qualified member of the Irish Society of Chartered Physiotherapists (ISCP). The initials MISCP infer that your Physiotherapist is a Member of the Irish Society of Chartered Physiotherapists.
The ISCP is the sole Irish regulatory organisation recognised by the World Confederation of Physical Therapy (WCPT) for the regulation of Physiotherapy/Physical Therapy in Ireland. It must be stressed that Physiotherapists in North America are known as Physical Therapists. The title of Physical Therapist is protected in other countries, as it implies being a Physiotherapist. This is not the case in Ireland. In this country, Chartered Physiotherapists soley subscribe to the ISCP's Rules of Professional Conduct and Code of Ethics.
By choosing a Chartered Physiotherapist, you are ensured of being in the care of a healthcare professional who possesses a high standard, recognised university degree and whose qualifications are recognised worldwide. In addition, your Chartered Physiotherapist is committed and compelled to ongoing professional development and education, which ensures the most up to date evidence in your treatments. It also is a requirement of a Chartered Physiotherapist to possess professional liability insurance. Many Chartered Physiotherapists undertake further post graduate studies in order to obtain a Master's degree in Sports and Exercise Medicine, Manual Therapy or other speciality areas.
For optimal results and peace of mind, ensure your Physiotherapist is Chartered as only a Chartered Physiotherapist has a degree in Physiotherapy that is recognised by the medical professions and the Department of Health.
David Ukich Physiotherapy Clinic Castlebar
Contact Details
1 Humbert Mall, Castle Street (Car Park), Castlebar, Co. Mayo
094 90 34674
Mon-Fri 9-6pm, Sat 9-1pm